Discussion Starter
•
#1
•
Ok guys, since everyone has been asking i finally had some time to do some vinyl wrap last night and figured i would share.
List of what you will need
1. a good vinyl. I suggest Hexis as they are a very well known brand for good sturdy vinyl.
2. heat gun or hairdryer of some sort. ( i picked one up at wal mart for 10 bucks that works great)
3. A nice clean new thin razor
4. a rubber or felt wrapped squeegie ( now you can go to pep boys or advanced auto and buy both of those with a razor in a package together in the tint section.)
5. some sort of hard card. you can use something form your wallet but be prepared to never use it again, it will get bent and trashed.
6. optional* having a "pick" of some sort is nice just for small edge tucking or being able to grab small pieces of vinyl and trimming a tight area.
7. Alcohol wipes. these are crucial for cleaning the surface. IF you cant get wipes then use a small microfiber towel with alcohol on it but make sure no threads or fuzzies are left behind.
Ok here is the process.
1. choose your location and clean thoroughly with the alcohol pads. you want to make sure there are no other chemicals on the surface that might react with the glue on the vinyl and make it not stick.
2. measure out the surface you want to cover and cut a piece of vinyl to well exceed that.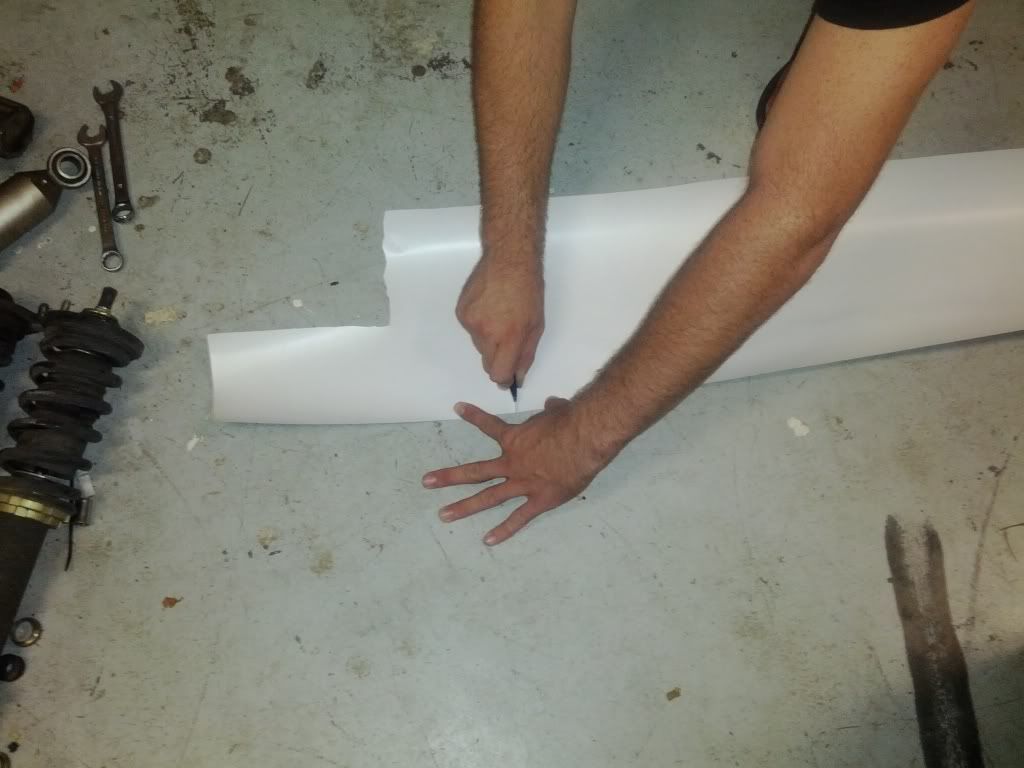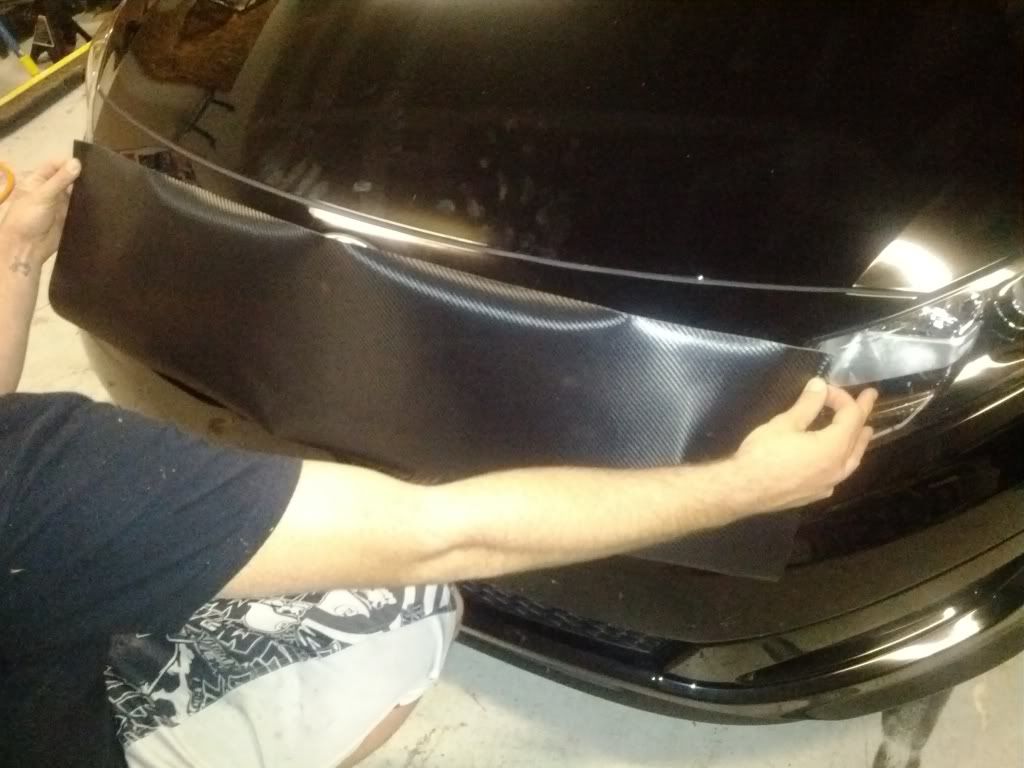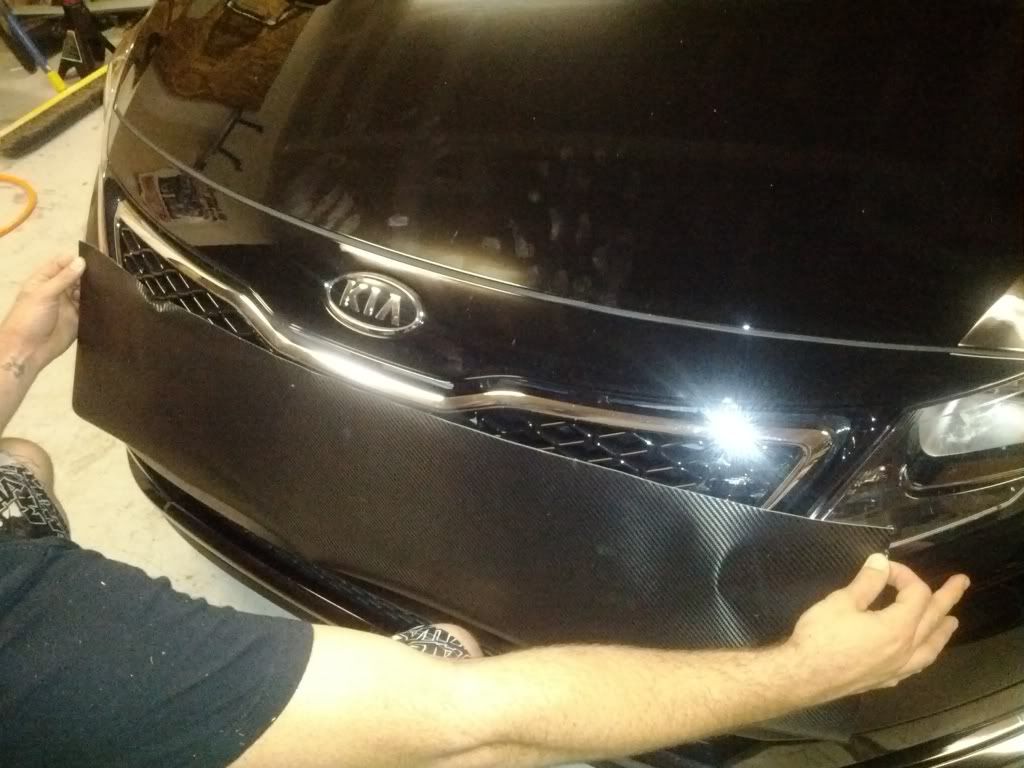 You can see how the piece is about two inches larger all the way around. i know it wastes a decent about of vinyl but trust me till you get pro at this you will want the buffer room to be able to trim a few times.
3.once you have cut the vinyl and are satisfied with the size, peel the backing off.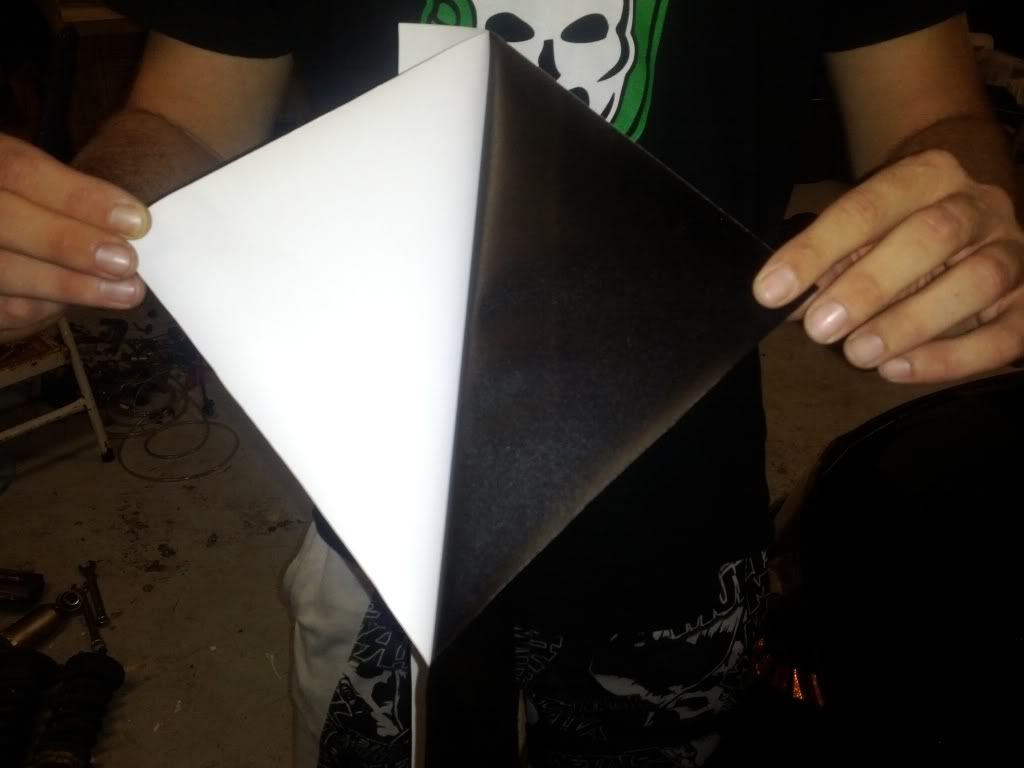 4. now take the vinyl and gently lay it to cover the surface. dont be worried about letting its stick to you paint or anything it will peel of again very easily.
5.gently run your fingers around the surface that you want the vinyl to conform to. dont push to hard. you just want a slight visual of the surface to show up.
6. once you have the vinyl layed and outlined take the hairdryer or heat gun and slowly heat the vinyl following that line. You will notice the vinyl will almost instantly change getting very soft and very pliable very quickly.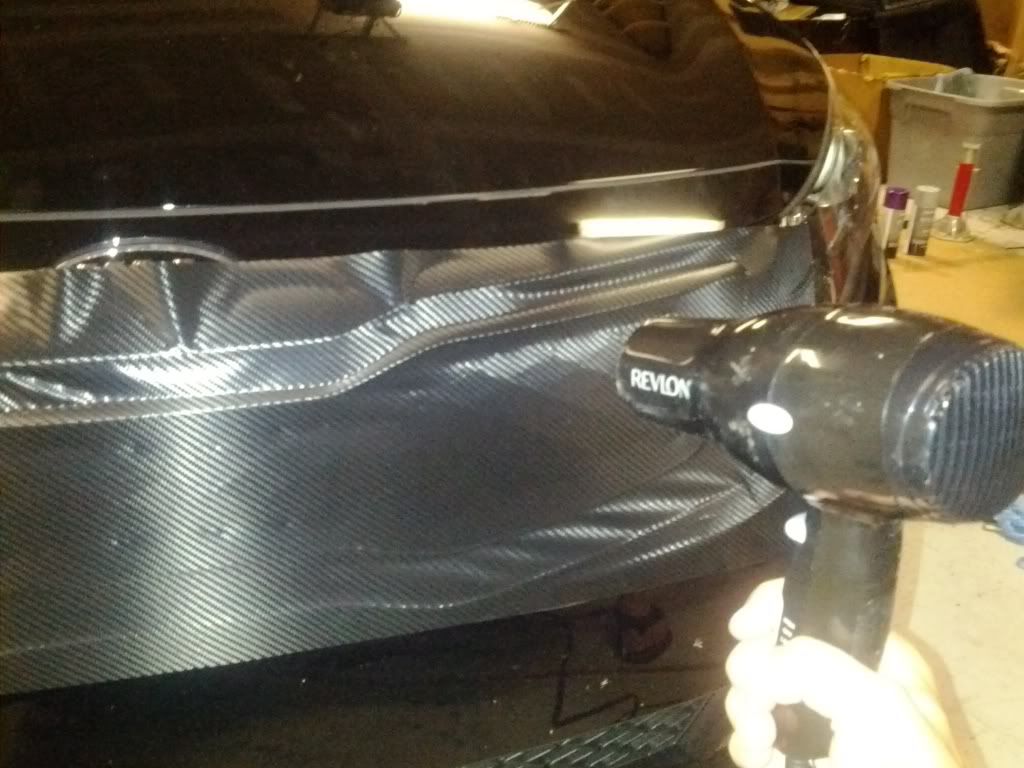 7. As you heat the vinyl, run your fingers along the surface. it will stretch slightly. The key is to make big smooth sweeping motions and try and stick down as much surface as possible while avoiding wrinkles.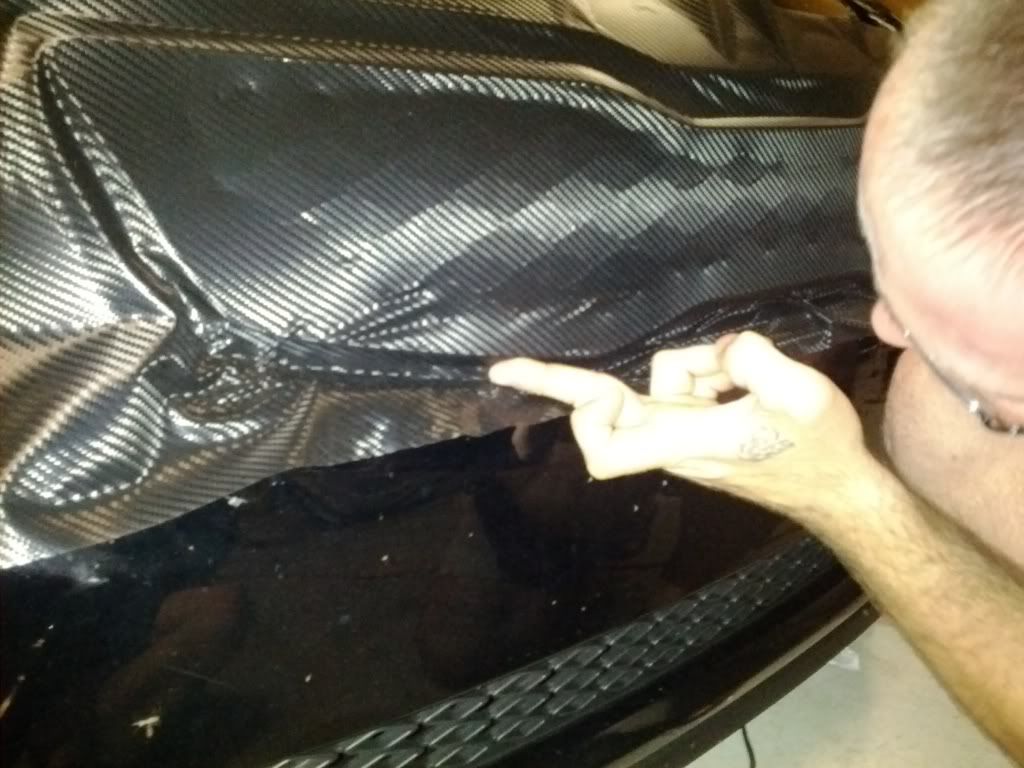 8. work the whole outline nice and slow. remember the vinyl will stretch to about 2.5x its normal size so dont be afraid to really push on it to smooth it. Just avoid and sharp or pointed or flat objects when you do. the vinyl will stretch but when heated it is very easy to puncture. when you are done it should look something like this
9. now to trim the excess. the biggest thing to remember about vinyl is it works best when wrapped "AROUND" the object. sometimes this is not possible but on most surfaces it is. so when you trim, dont trim flush to the edge, give yourself a small buffer to tuck and wrap around.
10. take your time and find your seams. i like to use my thumbnail to guide along and press in the vinyl. its about the right thickness to give you a good tucking edge and when the vinyl is soft, running you nail in the edge will actually trim it very will. Easier than a raxor sometimes because a razor can almost cut too easily. but to each his own. once you have found your seem and trimmed, heat slight and just work around tuck the vinyl. again dont be afraid to stretch it to make sure it wraps around all edges.
KEY NOTE***** if for some reason you trim the vinyl a little short, or an edge rips instead of cutting cleanly dont
and freak out and start over! the reason you lay the vinyl gently on first is to make sure you can lay it with as little stretch as possible to begin with, that way if you do need to fix a section you can. just gently lift the section of vinyl up, apply heat, and stretch a little bit to cover the area that was cut to short. Simple fix.
11. bam! 99% done!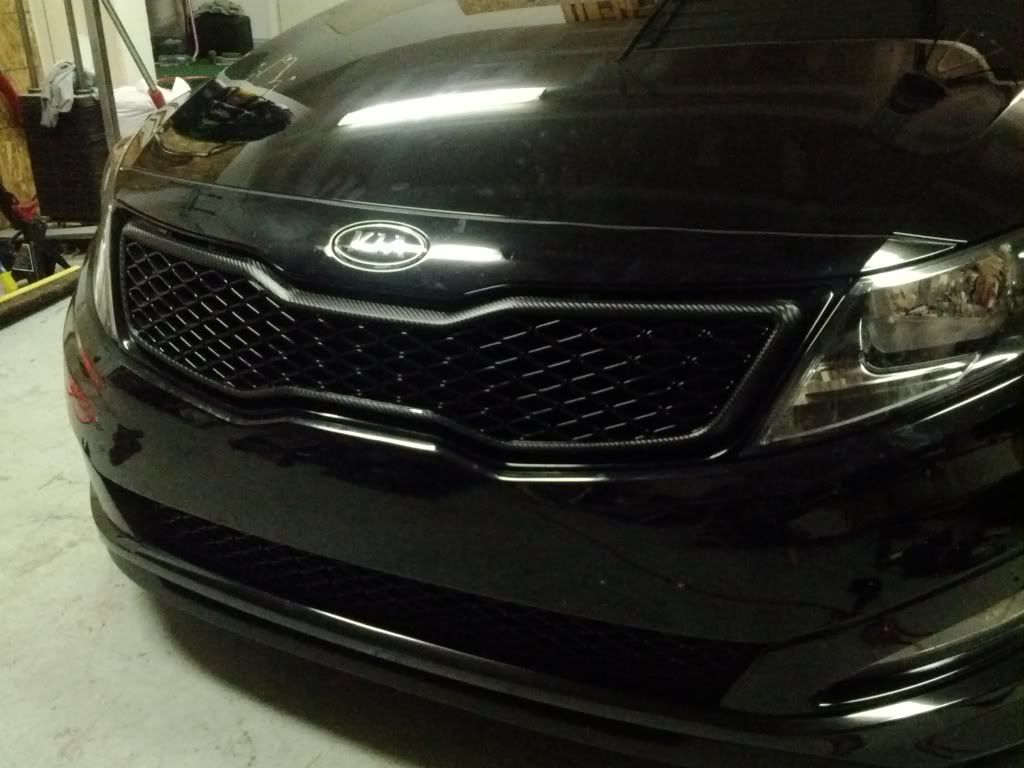 12. ok i know 11 was not a real step i was just excited to show that picture lol. so now what you want to do is let the vinyl cool for about 20 mins. This will allow it to shrink to where it will stay. you can now follow all of your lines and make sure you dont have any peel back or bunched up vinyl. You can trim or stretch whatever is needed and just keep repeating the process till you get it right.
HOPE THAT HELPS