Hey guys so i wanted to leave some review about the Raamaudio's sound deadener package.
RAAMaudio - Automotive sound deadening products
I've bought their package #1, which comes with sound deadening aluminum faced deadener and foam deadener (Ensolite). Now, the aluminum faced product is good, but nowhere near as good as their Ensolite. I'd actually recommend you go buy some cheap roofing aluminum faced membrane (some home improvement places have sound deadening like material that's also peel and stick). I think it'd be best to use Raamaudio's sound aluminum faced deadener, cheap roofing material on top, and then Ensolite. Seriously, the ensolite is miraculous when it comes to making the car quiet.
The package #1 wasn't enough to the entire floor of the car to the trunk. I've started from underneath the front console to made it halfway underneath the rear seats, but when i say i started from the front, i covered every inch of the car. If you don't use as much material at the front, you'll have enough to cover the entire floor. I think i might buy package #2 (larger quantity) to do my trunk, doors, and roof? but i'm not sure if i wanna invest so much in soundproofing the car...
you also need one of these:
Trust me, you can't apply it without one of these... i'd say get 2" and 4" or 2" if you only want to invest in one. The 4" would make the job much faster but you can't get to smaller areas and would be useless. Also, for tight corners, use the back end of the handle to apply pressure.
Before applying the sound deaender, you have to remove everything interior of your car. It's not a process for the faint hearted... I actually ended up putting everything back together with 6-8 "extra" screws and bolts.
It took me good 3-4 days of working about 4-6 hours daily to start and finish. But during this time i've also installed K5 Optima's UNAVI X2.
Here's a picture of my car with everything removed (taken from the trunk)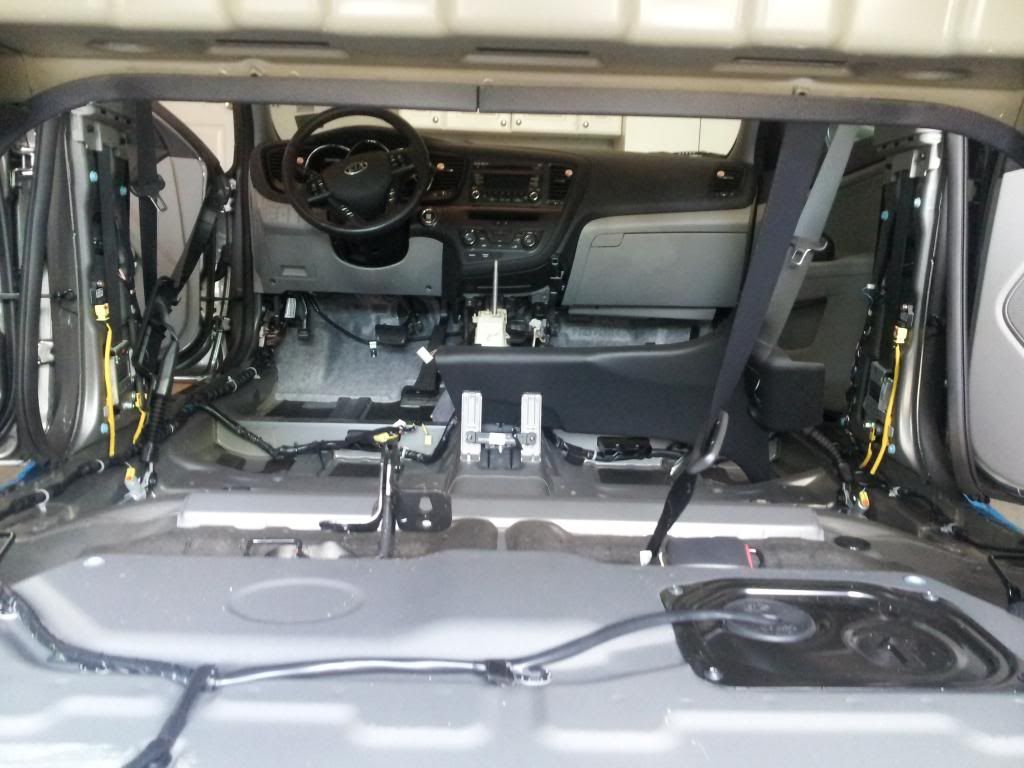 before applying these material, make sure to vacuum and wipe down with alcohol to get rid of everything that's not metal. Buy their peel and stick material, they're extremely easy to use. They're really sticky but you can lift them off the car as long as you haven't pressed them in, once you've applied pressure, it's never EVER coming off. trust me... i tried to fix it and i couldn't. Same thing with the Ensolite material, once they're on, they're staying!
For the actual performance review
The RaaMat BXT wasn't that amazing, it did dampen the sound a little bit, but i wouldn't even recommend using it as a stand alone system. When i was doing the knuckle test, it barely made a difference.
The Ensolite on the other hand makes a night and day difference. Seriously, it almost completely kills the sound from my hitting the frame of the car!
Here's a video sample:

[/URL]
Overall thoughts
I'd say it's definitely worth your money if you want a quite ride! But the loud noises will remain loud. The nicely paved roads are where this product really performs well. The regular streets can still be somewhat loud, don't expect the sound proofing of an luxury car